Rooftop Installation
On rooftop installations where possible, we save time on the roof by as much as 60% by preassembling and prewiring and testing in the shop. The sections are then "flown" on the roof where minimal time is needed to finish the rooftop portion. This cuts insurance costs greatly, and minimizes worker fatique, all translating into a win-win for the crew and the customer! Inspectors like it too–they get to see the "hard–to-look-at" parts from the ground.
Pole Mounts
Same thing goes for top of pole mounts. We totally avoid having to build scaffold and install each part of the tracker and then each panel one at a time. Arrays are delivered from the shop pre-tested, ready to "fly." Again worker fatigue and insurance costs are greatly reduced, translating into savings for the client.
Hot Water & Space Heating
We specialize in large or small scale solar thermal projects for hot water and space heating, as well as process heat. In residential heating applications, we can almost eliminate the need for electric or gas backup heat. Most clients report our systems (located largely in snow-prone areas of Utah) have cut their heating costs by at LEAST 70%, others boast higher numbers.
Ground Mount Systems
Our custom manufactured ground mount systems allow for trussed support over very long spans, allowing for minimal foundation contact points, and spans over difficult terrain, as well as modular pre-assembly minimizing on site build time. This can save customers in a big way on remote sites.
Solar Electric Systems
We do small and large solar electric systems, on and off grid. Inverter assemblies for very large power room requirements can be built modularly and delivered in large sections for minimal on site installation time. This particular installation is in a solar power room for a very large off grid, almost all electric home. Heating/air conditioning, lighting, refrigeration all electric. This inverter assembly produces 66kw, and has one of our signature remote controlled and monitored option packages.
Racking System
We offer a racking system for flat roofs that can require no or almost no ballusting. The rubber blocks that contact the roof are location adjustable to put pressure directly on the roof framing members instead of the sheathing. This design allows for an additional roof loading weight of under 5lbs/ft2 in most cases, racking and panels included. It also makes possible our unique pre-build option, allowing most assembly off site, for minimal on site disruption.
Monitoring Ability
Since one of the things that sets our installations apart is the total ability to monitor and MANIPULATE the system remotely, you have to have internet and phone service. Many remote sites don't. So we came up with a way to make that happen without satellite. To date this has worked in every remote location where other methods have failed, with only a single exception. Even in that setting it worked, but annoyingly slow, so we had to give in and recomment satellite for that location. Once installed, the phone/data service can be extended over the entire property if desired.
Pole Installation
Another top of pole install pre built at our facility.
Thermal Heating System
A medium sized solar thermal heating system in a remote off grid area, utilizing our special ground mount design. This site is remote controlled, hence the phone/data system in the background.
Agricultural Electric System
Another grid-tied agricultural solar electric system for pumping irrigation water. This system uses our pre-built ground mount rack system, delivered all in one load to site.
Pre-wired Panels
Assembly of pre-wired panel sections for a commercial roof top job. The lifting cage shown on top of the sections keep the assembly from bending or twisting in any way during the "flight" on the roof. The flying leads from each section are pulled through a main conduit which is hidden by the color matched trim. Also note the pre-assembled inverter configuration. This is a 15kw 3-phase 208 Y setup, and is grid tied, with the option of an add-on battery pack for autonomy in power outages.
Phone/Internet System
Another example of our phone/internet access systems where internet availability was very poor. This system provides round the clock access and control to the solar powered pumping facility housed in the same building.
Dixie Line Contracting
P.O Box 34
Toquerville, UT 84774
435-680-2805
udvary@sginet.com
Utah Contractors License #: 243556-5501
License Categories
- General Contractor R100
- Solar Thermal S215
- Solar Electric S202
Arizona Contractors License #: ROC128679
- Residential General Contractor Only
Dixie Line Contracting
P.O Box 34
Toquerville, UT 84774
435-680-2805
udvary@sginet.com
©2023 Dixie Line Contracting, All Rights Reserved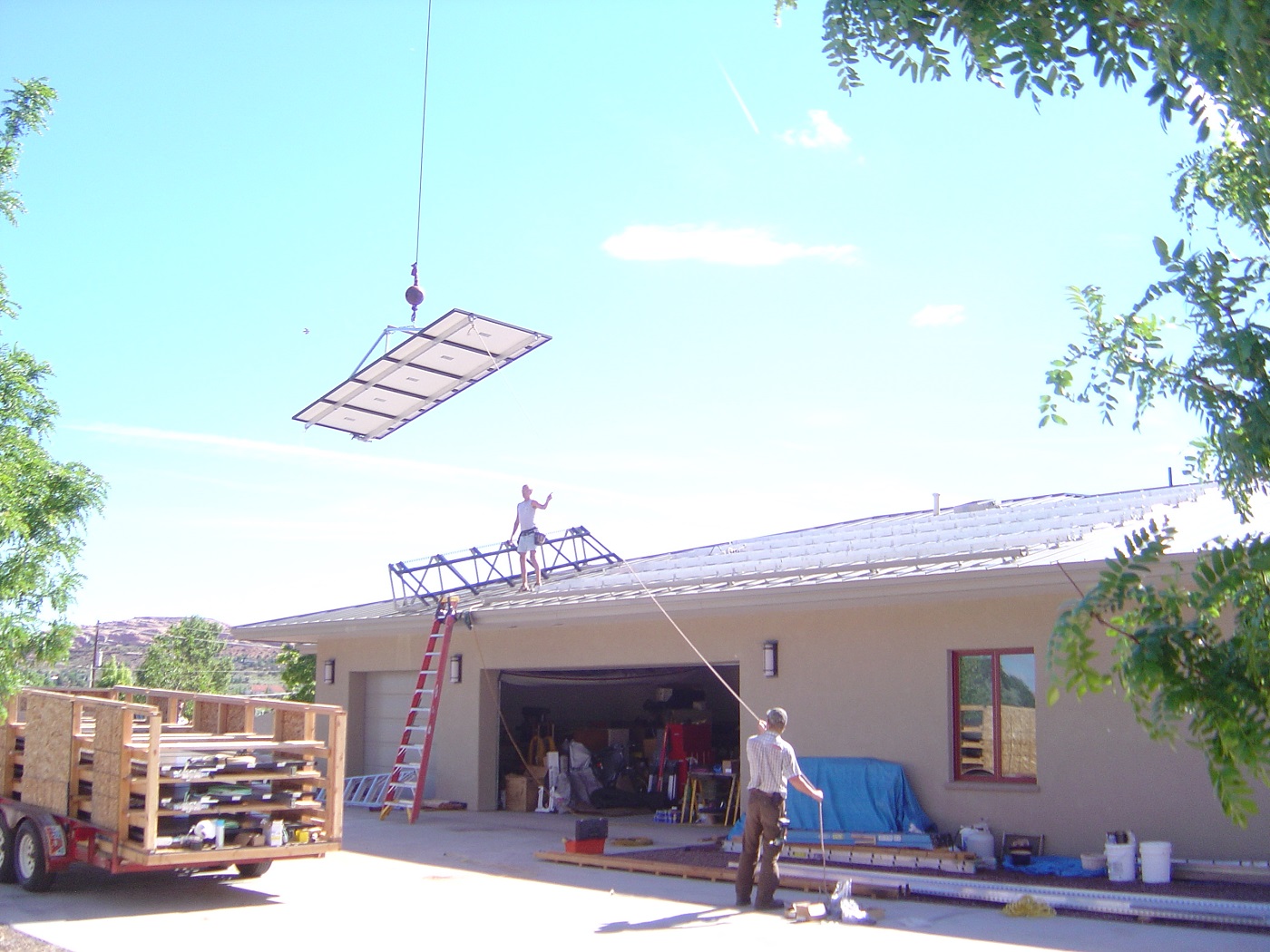 Utah Contractors License #: 243556-5501
License Categories
- General Contractor R100
- Solar Thermal S215
- Solar Electric S202
Arizona Contractors License #: ROC128679
- Residential General Contractor Only